ROCHESTER AREA:
585-216-9334
BUFFALO AREA:
716-685-1556
ROCHESTER AREA:
585-216-9334
BUFFALO AREA:
716-685-1556
Five Star Service Center

---
This old sign has been on our front door since about 1998 or so. While it may be faded and a bit wrinkled, its message is still clear and strong: BUY PRODUCTS ONLY WHERE YOU CAN GET SERVICE.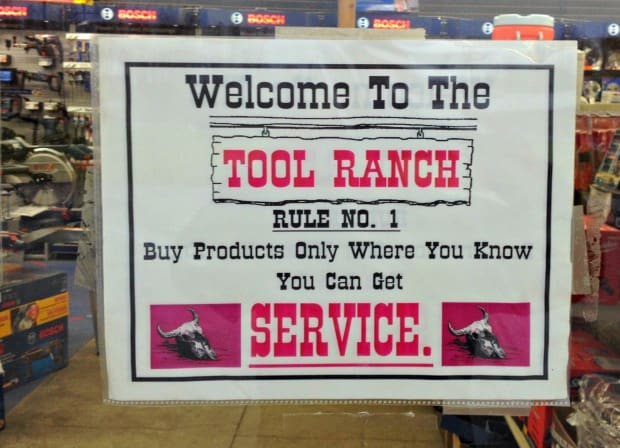 Tool Ranch Service Department
---
We know that you make a living from your tools and equipment: Down-time is lost money. That is why professionals and homeowners from all over Western New York come to the Tool Ranch to get their equipment repaired. Those outside the WNY area can ship their tools into our store for a speedy repair. With over 100,000 parts in stock and FOUR Factory Certified Service Techs, we are committed to a prompt turnaround.

---
30 Day Warranty on installed parts (excludes driver blades and other metal parts)
---
---
Take advantage of our SERVICE ROUTE EXPRESS to schedule a regular pick-up of your equipment-an exclusive Tool Ranch service.
---
FREE job site Pick-Up & Delivery to most areas in Western New York.
---
Factory Authorized Service Center for
---
MAX (rebar tier) • Simpson (gas powered) • Bosch • Makita
DeWalt • Senco • Hitachi • Porter Cable • Rol-Air • Honda small engines
And more!
---
Four Factory Trained Service Techs who repair all equipment In-House:
---
√ Electric & Corded Power Tools
√ Pneumatic Nailers & Staplers, Carton Closing Equipment, Rivet Busters, Pavement Breakers
√ Compressors, Generators, Pressure Washers, Trash Pumps, Concrete Saws, Tampers, Mortar Mixers
√ Gas Concrete/Steel Nailers, Powder Actuated .25/.27 Caliber
---
Please keep in mind that we offer RENTALS so you can keep your job moving until your tool is done.
Authorized Warranty Center
We service what we sell. Our Service Department knows the value of your time. Broken tools cost you time and money. Let us get you back up and working. We service most major brands and we are an authorized warranty service center for for Makita, Hitachi, Rolair, Bosch, Simpson Strong-Tie, Senco, DeWalt and Max USA Corp.

There are several ways to schedule a pick-up of your broken equipment.
You can email us at service@thetoolranch.com
Call us at the following numbers:
BUFFALO AREA: 716-685-1556
ROCHESTER AREA: 585-216-9334
OR complete the form below. We will contact you to verify pick-up time and location. Thank you.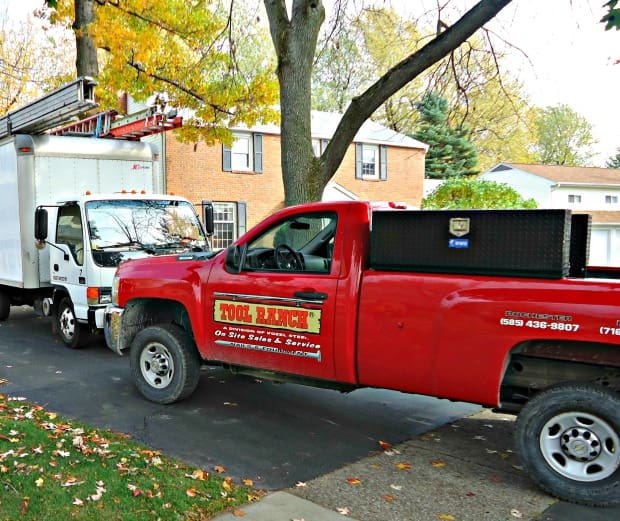 I've been with Tool Ranch since the beginning. It's where I'm staying.
Bob Rosiak, Owner
RSR Construction Corp
For the past fifteen years, Tool Ranch has taken care of my equipment, fasteners and tool repairs. In my opinion the service and pricing they provide for my company is the best in WNY.
Thomas J. Welsh, Owner
Tool Ranch makes things easy every time! We call them with what we need, and they deliver it to our doorsteps on time, as we ordered it and with a friendly smile. At the end of the day, we do business with Tool Ranch because working with them is stress free!
Sarah Schembri
Houseworx, LLC.
You guys are great. If we could get the rest of our subs to be like you we'd be millionaires.
Derrick
Straightline Construction
Not only did they deliver to my job site, but to my house. Can't beat that.
Richard Schneider, Owner
Schneider Remodeling
My customers and my business demand high quality products and customer service. I've found both of these qualities working with the fine people Tool Ranch since the early 1990's. I'm part of the Tool Ranch family and I highly recommend making them a part of your family too.
Mike Caroll, Owner MP
Caroll Hardwood